Teen Counseling Services in Los Angeles, Santa Monica, & Burbank, CA

Let's face it, being a teenager has never been easy. Teenagers today are trying to manage their schoolwork, develop supportive friendships, navigate the rules of dating, and deal with increased social pressures. In fact, in a world of ever-evolving interconnectedness and social media, the personal battles for teens have become even more pervasive. It is equally difficult for parents. The son or daughter you have known through childhood is becoming a different person. The old activities, conversations, and rules have changed and parents have to find a way to adjust. All of these struggles can get in the way of your teenager thriving as they find their way into adulthood. Teen counseling can help.
If you live in the Los Angeles area and your child is having difficulty finding their stride in these changing times, contact me today. As a leading counselor for teen and adolescent therapy, I offer services in both Santa Monica and Burbank, CA.
A Unique Approach to Teen Counseling
The approach I take with Teen Counseling is unique. My primary goal as a teen counselor is to meet your teen on his or her level. My years as a high school teacher and counselor have taught me that, above all, teens need a therapist who can hear and value their ideas and experiences. Without this, they are reluctant to open. However, when they experience my ability to meet them where they are at and value their ideas and experiences, the counseling relationship can lead and positive changes in their lives. My approach to working with teens in this way can lead to growth in:
Developing social skills
Overcoming issues with depression and anxiety
Resolving conflicts at home and school
Improving performance in school
Handling bullying and cyber-bullying
Dealing with drug and alcohol abuse
Creating stable limits for social media and video game use
Addressing family disputes and conflict
Managing the heartbreak of divorce and separation
Teen counseling is a difficult topic to bring up, even with kids who know they could use a shoulder to lean on and some words of wisdom. Having a counselor who can connect with them in a way that feels genuine, direct, and challenging is critical. This is precisely the reason I position myself as both a listener and advisor to teens. When beginning work with each teen, I schedule two to three sessions to listen and develop a connection with your teen. Then I meet with you, the parents, one on one in order to go over your concerns and help you develop methods of dealing with them. These "Parent Feedback" sessions come after the first teen counseling sessions so that teens have a chance to express their issues and concerns. At that point, we can all work together as a team to improve the lives of your teenager and your family as a whole.
Learn More About My Teen Counseling Services Serving Los Angeles, Santa Monica, & Burbank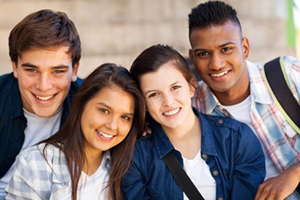 As difficult as it may seem to navigate the ups and downs of high school, help begins with a simple phone call. From the outset, I listen more than I speak so that I can fully understand your situation and your reasons for seeking teen counseling for your son or daughter. The earlier we start, the sooner solutions can take effect.
In Santa Monica or Burbank, California, contact me today to understand and learn more about my new approach to teen counseling and to schedule a session. Many start out nervous when it comes to therapy, but the end result is a happier, brighter child, and a better-connected family.
For more information on teen counseling see: