Teenage Depression & Other Issues Teen Therapy Addresses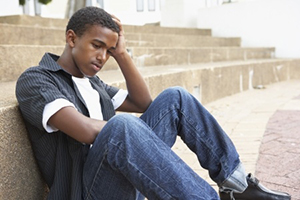 The combined pressures of physical and emotional changes, as well as growing social responsibilities make many teens and adolescents prone to teenage depression as well as other emotional struggles. If your adolescent is showing signs of teenage depression or is struggling with other issues, therapy may be the best answer. As a licensed teen counselor serving the areas of Santa Monica and Burbank in the Los Angeles region, I have experience working with teens and adolescents dealing with all types of issues. Contact me online or by phone to learn more about how teen therapy can help.
About Teenage Depression
The pressures of the teenage years can seem insurmountable. Some teens feel that there is no clear path through their struggles and are hesitant to talk about what they are going through. When this happens, they often experience teenage depression. In fact, it is estimated that 1 out of every 5 teenagers will experience depression before they enter adulthood. It is important to determine whether the depression is related to a particular issue or if it is ongoing and clinical. The sooner this problem is addressed the more likely the teen can emerge from depression and get back to enjoying life. My work as a high school teacher and training as a therapist have given me the experience to both recognize the signs of teen depression and help teenagers work through the issues that led them to feel the way they do. 
Many teens experience depression when the pressures they are under seem insurmountable and they cannot find a clear path through their struggles. In the most extreme cases, this emotional disease can lead to self-harm and suicide, if it left untreated. Therefore, it is important to address issues right away. My time as a high school teacher and my training as a therapist have made me well equipped to recognize the signs of teen depression. Through therapy, I can work with teens to determine whether the depression is related to a particular issue or if it is ongoing and clinical.
Teen Therapy Can Address More than Just Teenage Depression
Anxiety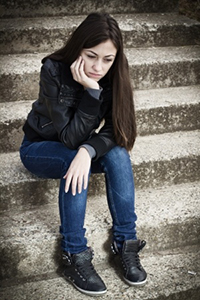 With all the changes happening in these critical years (social, physical, intellectual), it is normal for teenagers to feel some amount of worry. Some teens, however, are experiencing real anxiety and need help to address the underlying issues causing it. Anxiety can manifest in a variety of ways such as stomach and headaches, avoiding going to school, and sometimes refusal to join into everyday activities. Teen therapy can help the adolescent to feel more secure so the anxiety does not affect his or her life.
Teenage depression can often manifest itself in physical ways such as stomachaches and headaches. Your child asking to stay home sick from school may actually be a sign of deeper issues. Teen therapy can help to treat the underlying cause of these kinds of illnesses and result in a return to normal behavior.
Divorce
Divorce is one of the toughest situations a teenager can face. With it comes a wide range of emotions that often need a neutral and safe place to be heard outside of the family without judgment. Without someone to work through the feelings, teens are at risk of either burying the emotions, which can cause teenage depression, or taking the feelings out inappropriately. Teen therapy provides the space and support to work through this difficult time.
As if the changes of high school are not enough, the shock of divorce can lead to a number of problems for teenagers. Some may develop teenage depression because of the situation; others may simply require teen therapy to help understand what this means for them and their family. It is important to remain judgment free about a teenager's feelings during this time to allow them to open up and begin to heal.
Low Self Esteem
Building a healthy self-esteem is one of the crucial tasks in a developing adolescent. Unfortunately, too many teens feel bad about themselves and cannot experience what their gifts are. For some it is because they don't have a clear sense of who they are. Others teens see their self worth only as being what they do, rather than who they are. Either situation can lead to teenage depression. Teen therapy can help address the issues of low self-esteem and help the adolescent feel more confident and comfortable.
Lack of Social Skills
Many teens struggle to "fit in" or find their place in the world. With so many changes, it can be hard to read social cues and to form solid friendships that give them a sense of belonging. Without the social skills necessary during adolescents, teenagers feel isolated which can lead teenage depression. Teen therapy can help teens to understand and develop the social skills needed in a safe and supportive place.
Academic Struggles
The school environment puts a tremendous amount of pressure on teenagers. Sometimes they struggle academically because of emotional pain or problems with executive functioning. In both situations, teen therapy can help.
Self Destructive Behaviors
Some teenagers are hurting enough that they act out in aggressive or inappropriate ways. Fighting, refusing to follow rules, and making consistently destructive choices are just some of the ways they express their anger. In these situations especially, the teen counselor must be caring, but also clear and direct in order to help the teenager to change his or her behaviors.
This can take many forms, but is always the most shocking aspect of teenage depression. Some teens show increased anger and resort to being destructive of their home or school, others resort to harming themselves. In any case, teen therapy is a crucial step to addressing the issues. In these scenarios especially, the teen counselor must be caring and nonjudgmental, but also clear and strong in order to reverse this behavior.
Learn More About Teen Therapy In Los Angeles
If your child is showing any signs of teenage depression or is battling with any other of these additional burdens contact me at my Santa Monica or Burbank office today to learn how teen therapy may be able to help. Together we can help your teenager grow through these difficulties instead of being swallowed by them.